| | |
| --- | --- |
| Redwoods Grill & Bar | |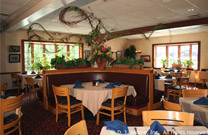 Primary Cuisine:
Wood Grilled Steak & Seafood
NOW OFFERING DELEVERY
Tues-Friday -5-9pm
Saturday- 4-9pm
Sunday - 4-8 pm

We deliver within 15 minutes of Redwoods
$30 minimum

*********************************************************
In 1996 John and Keith took over Oliver's restaurant and started Redwoods Grill and Bar. We have developed into the Chester hotspot.
The décor has elements taken from California restaurants that add a soothing environment in which to dine. Our restaurant has become a popular party spot where we entertain folks for showers, rehearsal dinners, weddings, and birthdays. One of our new focuses is in the area of off premise catering where we take the show on the road and bring food and service to a location of your choice. We truly enjoy serving our customers in all capacities.
Come and experience Redwoods for yourself. We promise to serve you a quality meal and friendly service. Thank you for visiting our website. Let us know how you feel.
Bon Apetit,
Keith and John
*********************************************************
Hello and welcome to the Redwoods Grill and Bar. Our desire is to provide you with enticing information, which will lead you to a visit to our restaurant and become a Redwoods Preferred Customer.
The focus of our cuisine is our six foot Wood Burning Grill. The flavor that is given off during the grilling process is unique to this type of cooking. A quick peruse of the menu will show that we put everything from beef, seafood and vegetables on the grill. Teamed up with our wood grilled cuisine is our friendly and attentive service. What is a good meal without good service to allow you to relax and enjoy.
Our Wood Grilled Stove
We live in a world where the speed of life has bombarded the food industry with as much technology as the telephone industry. What works for phones doesn't work for food! The over-processing and microwave heating of our food supply destroys the essential parts of the nutritional value and wholesome flavor.
Nothing can replace homemade salad dressings, soups made with natural stocks, fresh cut steaks, and creative homemade desserts. At Redwoods, we believe in the sumptuous flavors developed thru a history of cooking techniques that we believe comes through in the first mouthful.
Quick Links
Details

Atmosphere

Casual

Handicap Accessible

Yes

Liquor License

Yes

Parking

Yes
Parking Lot


Price

$15 - $22

Reservations

Recommended
Yes


Smoking

Outside

Take Out

Yes
Cuisines Available

American
Bar & Lounge
Burgers
Coffee and Desserts
Family Dining
Outside Dining
Pasta
Salads
Sandwiches
Shellfish
Soups
Southwest
Steak House
Steaks
Steaks and Chops
TakeOut
Vegetarian
Serving

Corporate Functions
Desserts
Dinner
Lunch
Private Parties