| | |
| --- | --- |
| 410 Bank Street | |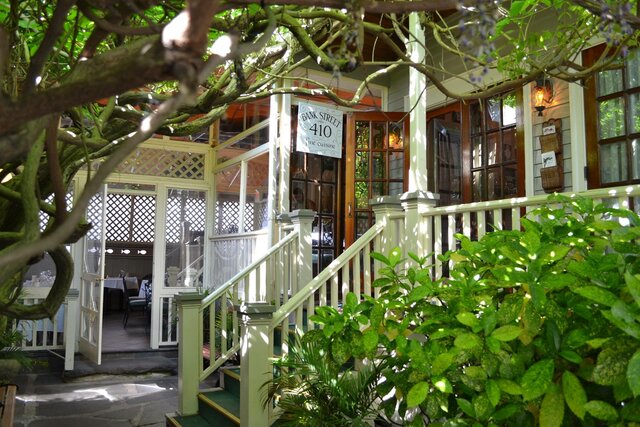 Primary Cuisine:
French New Orleans With A Taste of the Caribbean
A winding slate path through overhanging vines and tropical foliage leads to the historic 1840 Carriage house where 410 Bank Street Restaurant is located. Slowly spinning ceiling fans stir the aromas of French-New Orleans accented cooking and trawler-to-table seafood and steaks grilling over mesquite. Envision yourself in New Orleans or Key West. In the canopied garden, or on the candlelit veranda, dine on the exotic cuisine include baby rack of lamb, local-caught tuna, swordfish & lobster, and the justly famous smoked, grilled and blackened steaks and prime rib. Beyond the menu, a dozen or more seafood specials are offered nightly. The helpful staff, mature and attired in 410's signature tropical batik, makes you feel like you are dining on a private yacht.
PARKING
Parking for 410 Bank Street is located 1.5 blocks west on Bank Street at Bank Street Commons. The driveway for Bank Street Commons is located behind Homestead Realty and before the City Municipal Lot. (*There is a $5 non-refundable fee to park).
ALCOHOLIC BEVERAGES
In addition to being a BYOB establishment, 410 Bank Street offers a selection of Cape May Winery's finest wines, by the bottle. *NO Corkage fee* Customers should call 609.884.2127 with further questions.
​DRESS CODE
The dress code for 410 Bank Street Restaurant is Resort Casual Attire. Jackets & ties are not required. Khakis and polos for the gentlemen & upscale sun dresses or linen pants & blouses for ladies.
OUTDOOR SEATING
410 Bank Street does offer outdoor dining. However, due to its limited availability, reservations can not be made for this section and will only be offered on a first come first serve basis.
Quick Links
Details

Atmosphere

Fine Dining

Price

Over $30

Reservations

Recommended
Yes


Smoking

No Smoking
Cuisines Available

American
Cajun / Creole
Caribbean
Coffee and Desserts
French
Salads
Shellfish
Soups
Steaks
Steaks and Chops
Serving